York Railway Institute opened on 4 July 1889.
In 1924 Lord Knaresborough, the president and last chairman of the NER, and his fellow directors provided a  trophy, the Directors' Cup, for competition amongst railway members only as a memento of that now defunct company. Ernest Riddle was the first winner of this trophy in 1924 which was the first year they were played for.
           Ernst is pictured here with his grandson with the trophies.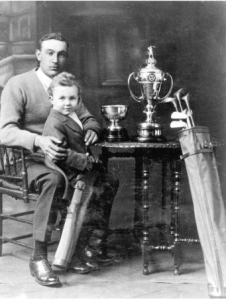 Around this period the annual subscriptions were £1.05.
The golf course was previously named "Hob Moor Golf Course" and was not located in its present site. It was upgraded to 18 holes in 1935, where it remained on this site for a further 11 years. Below are the two course layouts, it looks a bit tight for both play and safety over the Hob Moor grounds.
Some of the clubhouse buildings had been brought from Hob Moor in 1946 but the dark hut with the large window to the right of the slope down from the A64 was a slightly later additional to house the men's toilets and washbasins. You may recognise this as the current entry/exit to the car park from the A64, well before the road became a busy dual carriageway. As you will see it is a long way from the luxurious clubhouse of today.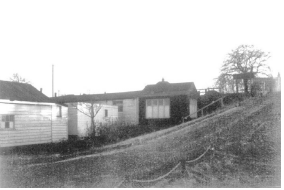 The first part of the new brick built clubhouse was opened on 7 December 1968 by D.S.M Barrie, General Manager, Eastern Region, British Rail. The new clubhouse is pictured seen from the first, now the sixteenth, fairway in January 1969. It had a spacious bar, lounge, tearoom and kitchen on the first floor with locker rooms and toilet facilities below. The trees are now considerably more mature. You will notice it has a flat roof which was upgraded in later years. The restaurant and professional shop was extended to its current size roughly around 1992
.
The current half way house was built in 2004 which provides a excellent opportunity for our members and guests to enjoy a rest and refreshment during play, plus a few moments to consider what went right or wrong on their first nine holes.
Ian Gradwell is the clubs longest serving professional, he succeeded Roger Denton who left for a coaching position in Germany. Ian was a excellent youth player and won the British Boys Championship in 1970. He was the club professional for over 25 years.